Extensive Reconstruction
What is Reconstructive Dentistry? Reconstructive dentistry refers to any restorative dentistry procedure that involves replacing or repairing broken or missing teeth, bones, or tissue. Procedures and types of dentistry that are classified as reconstructive dentistry include full mouth reconstruction, dental implant restorations, TMJ treatment, dental bridge placement, dental crown placement, inlays and onlays, and replacing old metal fillings. A general dentist can perform many of these procedures, but you should speak with the dentist prior to treatment to view samples of the doctor's restorative dentistry results and previous full mouth reconstructions.


Full Mouth Reconstruction If severe dental problems are causing you discomfort, you may be a good candidate for a full mouth reconstruction. A well-qualified general dentist can combine the aesthetics of cosmetic dentistry with the science of neuromuscular dentistry to perform a full mouth reconstruction. Orthodontic appliances can be used to help properly position your jaw. Once the jaw is properly aligned, relieving some of the pain caused by the TMJ syndrome, cosmetic and restorative dentistry procedures (porcelain veneers, dental crowns, bridgework, dental implants, and onlays) are completed. The result is an attractive, pain-free new smile.


Severe Dental Problems – Repairing Worn Teeth Dental problems such as damaged and worn teeth not only detract from your mouth visually, but they also can affect the alignment of your teeth. The procedures used by a general dentist when repairing worn teeth will depend on the extent of your teeth's damage. Generally a crown can be placed over your damaged tooth to strengthen and reinforce the tooth. If there is a gap between your natural teeth, a dental bridge may be used to cover the gap. If you no longer have a natural tooth to which your dentist can secure a crown, a dental implant may be placed in your jaw to create the crown's foundation.
Case 1: Extensive reconstruction
Before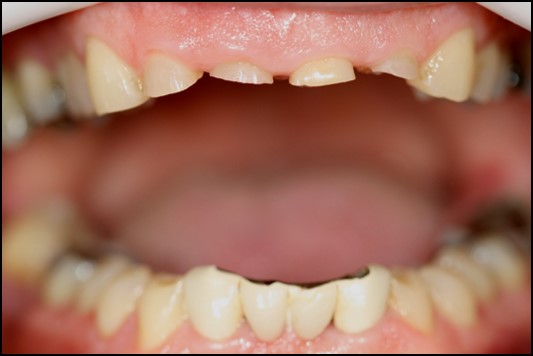 ->
->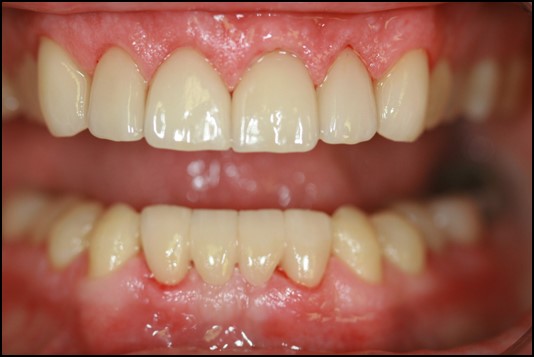 After